Anthony Rodriguez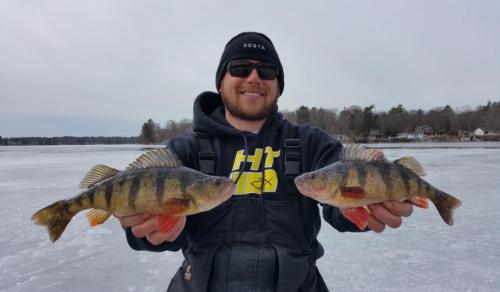 I was born on March 19, 1985 in Grand Rapids, Michigan as a middle child of 7 brothers and 3 sisters. None of which fish or share my passion for the outdoors unfortunately. As far as schooling goes, I graduated from Grandville High School in 2003 and then earned a college degree at Motorcycle Mechanics Institute in Arizona in 2005 as a factory certified Harley Davidson Technician. I bought my first home recently and currently reside on a beautiful 10 acres in Cedar springs, Michigan with my wife, and three canine companions.
January 2012 I was diagnosed with cancer. After a long look at my life up to that point some changes needed to be made. Not taking life for granted, I decided to pursue my true passion. I started by becoming a traveling ice tournament angler in the NAIFC. Through the ice fishing circuit, I was introduced to the USA Ice Team. I am now a world level competitor being one of 5 fishermen on the 2015 team. We competed this year in Kuopio, Finland. I have already made the 2016 team and am more than thrilled to be traveling to the Ukraine for next year's competition. Along with ice fishing, I have turned a mere hobby of river fishing into a full time river fishing guide job for salmon, steelhead, trout and trophy smallmouth bass. I am also one of four guys that publish a podcast called MI Ice Guys. We discuss everything fishing, from the latest and greatest products and technology, local and national tournament events, all down to creating an emphasis of ice safety. Total downloads per episode fluctuate between 2500-4000.
I caught my first fish when I was 4 and have been hooked ever since. My mother was actually the one to teach me the basics. I didn't start ice fishing until around age 9 thanks to my uncle. I would consider myself a pan fish specialist on hard and open water. I'm also an avid pike chaser and rough fish wrangler, however I am not particular. If it bites and makes the line tight I am definitely into it! One of my favorite parts of fishing is sharing my love for the sport and resources we have been blessed with. I am able to achieve this by making connections on every stop the NAIFC makes along the ice belt, doing seminars at Scheels and NAIFC events, making multiple TV appearances and radio interviews, participating in kids camps, and meeting new fisherman everyday while guiding. Also I am very active on many levels of social media and have an extensive following. With such a strong social media platform, I am easily able stay in touch with the vast amount of connections I've made. Through these avenues, I am able to give HT enterprises the exposure they deserve. Given the opportunity, I would love to travel and promote HT by giving more informational seminars and holding kids events. I personally use HT products wearing the Polar Fire Suit, using inline reels, and ice blue rods. Everywhere I go I tell people what works for me and that's HT. To me it seems like a perfect fit if I were to be chosen to be part of HT's prostaff for the upcoming 2016 season.
Listed below is an outline of ice fishing tournaments I've participated in during the 2014-2015 season. Upcoming events are also listed below.
NAIFC Events:
2014
National Championship- 14th place
2015
Lake Metigoshi ND-16th place
Hebgan Lake MT - 1st place 80 teams. 11.99lbs 6 trout through the ice with Chad.
Lake Mitchell SD-8th place
Lake Maxinkuckee IN-1st place 10.68 lbswith16 bluegills.
Croton Pond MI-13th place.
I am currently on the leader board for overall points twice, in 7th place with one partner and 8th in with Chad Schaub (see: Leader Board Standings.) Next season Chad and I have decided to fish the entire North American Ice Fishing Circuit, participating in all of their tournaments including North Dakota, South Dakota, Montana, Minnesota, Wisconsin, Indiana and Michigan. Looking forward to a great season on the ice this upcoming year and hoping I get a chance to represent a great company. Here are some photos from this past season.