BRIAN KOSHENINA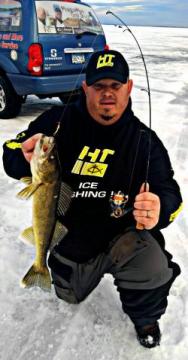 Brian Koshenina has been fishing since the age of 4 and hasn't stopped since! In his younger years, Brian spent time chasing walleyes across the Midwest as an amateur, drowning plastic worms for bass in open tournaments and spending countless hours "hunting" and catching the elusive musky.
Brian now spends his time guiding and mentoring as a volunteer. He's also a staff writer for the largest online fishing magazine, ODU Magazine, and represents some of the top companies in the industry as a Pro Staff and Guide Staff representative. Brian has emerged as one of the top professional fishing guides in Minnesota for both the hard and open water seasons, and has worked the Minnesota Governors Fishing Opener as a guide since 2012.
His sponsors include HT, Striker Ice, Snyder's Lures, Onyx PFD's, Hook Look Lures and Rods, Figure Eight Musky Gear, Drifter Tackle, and Poe's Lures.
If you would like to book a trip with Brian you can find him at http://muskiesandmore.com/