Lesa A. Beeler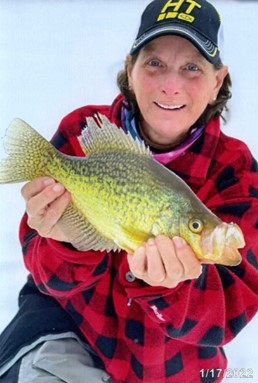 My name is Lesa A. Beeler. I was born and raised in Mankato, Minnesota. I moved to Wisconsin in 2016 where I finished out my career in Law Enforcement. I have been a lifetime member of The Women Anglers of Minnesota and I am a member of Wisconsin Women Fish. Both of these fishing groups have taught me a lifetime of fishing techniques that I use on a daily basis. I am also on the Pro Staff Team for HT Enterprises.
I grew up with a fishing pole in my hand. One of my first memories of fishing was actually a spearing trip. My Dad was an avid outdoorsman, and he decided to take several of us kids on a spearing adventure. He built a spear shack and put in a fold down bench with eye bolts attached to the wall. He cut a huge hole in the ice and moved the spearing house over the hole. All six or seven of us kids were then brought into the spear shack and sat on the bench. Then we were tied to the eyebolts with Grandmas old white dishtowels, so that we wouldn't fall in the giant hole in the ice. Dad would open the trap door that was made of plywood and lower the colorful decoys into the spear hole. We all watched with amazement as the schools of fish swam in front of us. When he would spear a giant northern, the spear house door would fly open, and the northern would go flying outside onto the ice. Growing up, we ate northern pike, crappies, and walleye for dinner at least twice a week. And it was always delicious!
Since I was a small child, I always tagged along with my Dad and my brothers whenever they were heading to the lake to go fishing. I spent many summers in Ontario, Canada fishing with Dad. Northern pike are my favorite fish to catch. I love the fight and the thrill of those monsters surfacing near the net, or pulling them up through the ice. After retiring, I have spent the majority of my time fishing across Wisconsin and Minnesota. I manage to get to Ontario once or twice a year to hunt for monster pike, but much of my time is spent on the small lakes around home stalking panfish and walleyes. I recently spent a week on the Wisconsin River fishing for Fall walleyes with a group of 50 women from Wisconsin Women Fish. We were all very successful on this adventure!
Crappies are my favorite fish to search out in the winter time. Always packing as light as possible, I use a one man flip over shack and I travel early ice, utilizing all of my safety gear and my spud bar. I couldn't be more excited for the ice to firm up on the lakes, so that I can get out there and start hole hopping in search of monster fish! Or, maybe just a great day on the ice running tip-ups or crappie fishing. Wherever I go, I am always searching for new lakes and great areas to fish. I just can't seem to get enough of it. Spring, Summer, Winter or Fall, you will find me on the water enjoying my retirement!