Switching Species Can Pay Off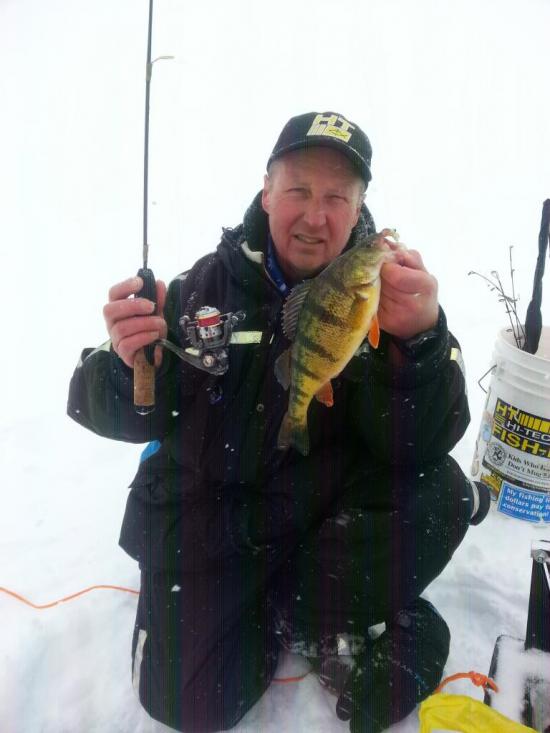 One of the nicest things about ice fishing big lakes ... and even some smaller ones, is that there is usually a choice of species you can target. If one type isn't going, then quite possibly another is. Or, perhaps you simply want to switch it up from morning to afternoon. Maybe it's just a combination of both that triggers a switch. Whatever the reason, switching it up can pay big dividends and not only salvage the day but provide some fun variety.
Such was the case on Lake Simcoe this past weekend when we headed out to target whitefish well off shore in the morning with a gameplan to switch it up right at noon if things slowed down. Although we had plenty of whitefish follow our baits all morning, my three buddies and I could only manage to land two of them. At 11:45am the texts to each other started to come in: "So- you guys ready to move in for perch at noon?" As tempting as it was to stay put in my warm and comfortable HT Arctic Bay Magnum Hut and try to make some of those whities strike, I reluctantly consented to stick with the gameplan ... so we packed up and moved.
We set up in 13 feet of water off an extended point with some sparse weedgrowth below. Fortunately, I was prepared for the move and had several rods pre-rigged with perch baits ready to go. I could see the perch on my graph and began with active baits but quickly realized that these fish weren't interested. I tried several types of jigs ... to no avail. Then I dropped down an HT chartreuse Glow Grub with a small white Trigger X Wax Tail and caught my first then my second, then my third ... and so on and so on. It was uncanny how fussy these perch were, yet tempted with the right bait, they were none to shy to forgo their ornery disposition. I did have to go thru a bunch of small non eaters but had a blast doing it and salvaged the day with 9 or 10 real good perch for dinner later that day.
As we got off the ice that day it felt good that we made the move, switched up our target species and were prepared to catch both.