Tom's Tips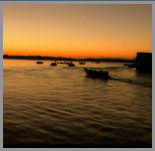 SAFETY FIRST, ALWAYS WEAR SAFETY CLEATS!
Ice Fishing begins with safety, and one of the best investments a serious ice angler can make is a pair of safety cleats, particularly if there is very little or no snow on the ice. Why ruin an ice fishing outing by risking an embarrassing stumble, or worse yet ruin a season due to a serious injury, when ice cleats are available that minimize the chance of such an occurrence?
Simple "overshoe" style models such as HT's SGT "Sure Grip Treads" are quite inexpensive, and feature a simple pull-on/off design, with no straps, tangled chains nylon buckles or snaps. Sure Grip Cleats are available in four sizes (SGT-0 (fits size 5-8 shoes and boots), SGT-1 (fits size 8-11 size shoes and boots), SGT-2 (fits size 11-13 shoes and boots) and SGT-3 (fits size 13+ shoes and boots). Best of all, Sure Grip Ice Cleats are quick: They're easy to pull on before you head onto the ice, and easy to take off when you return to your shanty or vehicle.