Tom's Tips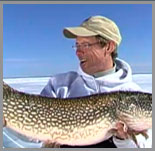 TRY MICRO SYSTEMS FOR PANFISH!
For a variety of reasons, winter pan fish are notorious for becoming super finicky, and when they do, knowledgeable ice anglers react.
If you haven't tried today's micro gear, you really should. Begin with a super fast action, micro ice rod such as HT's Polar Lites PLC-24MI, Polar Lites PLC-27LM, Polar Gold PLG-25UL or Ice Blues IB-18, IB-24, IB-30, IB-36 and IB-48. These are among the lightest, most sensitive ice fishing rods available, and combined with a lightweight, high quality spinning reel spooled with premium, micro light line of ½ - 2# test such as HT's IBL Ice Black Line, you can fish high power tiny micro jigs in sizes #12-16 such as HT's famous Marmooka Jigs. Tipped with a wiggler, spike, wax worm or tiny minnow, you'll soon come to understand and reap the rewards of the micro system advantage!